Welcome to our podiatry practice in Stony Brook, New York.
Important information about Coronavirus (COVID-19)
During this time of quarantine, we will be open to see urgent problems(sprains and fractures, cuts requiring sutures, infections, open wounds, acute pain, ets). We are doing this to reduce the risk of exposure in crowded emergency rooms and walk in clinics, AND to help reduce the burden on our already over crowded hospitals and clinics.
Please call the office to arrange an appointment. (631) 689-2300.
Temporary hours are Mon. - Sat., 9:00 AM - 12:00 Noon. Other appointments may be available by special arrangement.
Thank you all for your patience and cooperation.
We don't treat feet, we treat PEOPLE whose feet hurt!!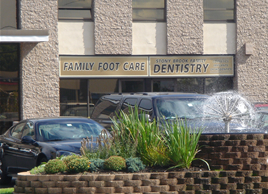 We are grateful that you have chosen us as the health care provider for your feet. Our staff is committed to providing the finest podiatric care in a warm and friendly environment in order to make you feel relaxed and comfortable.
Our practice is dedicated to providing quality foot and ankle care to patients of all ages. We believe that prompt diagnosis, early intervention and prevention are essential for the care and treatment of your feet. We provide a full range of podiatric medical care including both conservative and surgical therapies.
Providing Surgical and Non-Surgical Podiatric Treatment Options
Dr. Smith specializes in the medical and surgical treatment of foot and ankle conditions, such as:
Achilles Tendonitis
Arthritis of the Foot and Ankle
Athlete's Foot
Bunions
Charcot Foot Deformity
Children's In-Toe and Out-Toe
Corns / Calluses
Custom Ankle Braces
Diabetic Foot Ulcers
Diabetic Shoes
Flat Feet
Fungus Toenails

Geriatric Foot Care
Hammertoes
Heel Spurs
High Arch Feet
Ingrown Toenails
Neuromas / Nerve Problems
Orthotic Devices
Flantar Fasciitis
Sports Injuries
Tarsal Tunnel Syndrome
Tendonitis
Warts